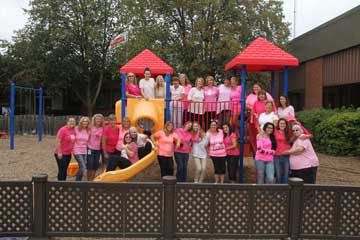 PROFESSIONAL STAFF
OUR STAFF AND ADMINISTRATION
At East Aurora Community Nursery, we have many things of which we can be proud. We have a very fine teaching staff which include graduates of early childhood curricula at regional colleges and specific training in child development. They have come to us with a multiplicity of backgrounds from those fresh out of school with an armload of ideas to those with years of experience and a full bag of tricks!
This center also provides training opportunities for student teachers enrolled in early childhood education programs in area colleges, as well as field experience for local high school students considering a career in early child care and education.
We feel most gratified and fortunate to have the professional staff that we do. Some of our staff have been with us for over 20 years, and there is always a feeling of freshness and excitement.
EACN has an administrative team that functions with the utmost respect for its children, parents and staff. The Executive Director and Business Manager work to establish open communication and professionalism throughout the program. The Administrative group includes the program Nurse and Receptionist and all work together cohesively to implement clear guidelines and policies. Due to this dynamic combination of staff, EACN provides high quality care and education for all children enrolled in the program.